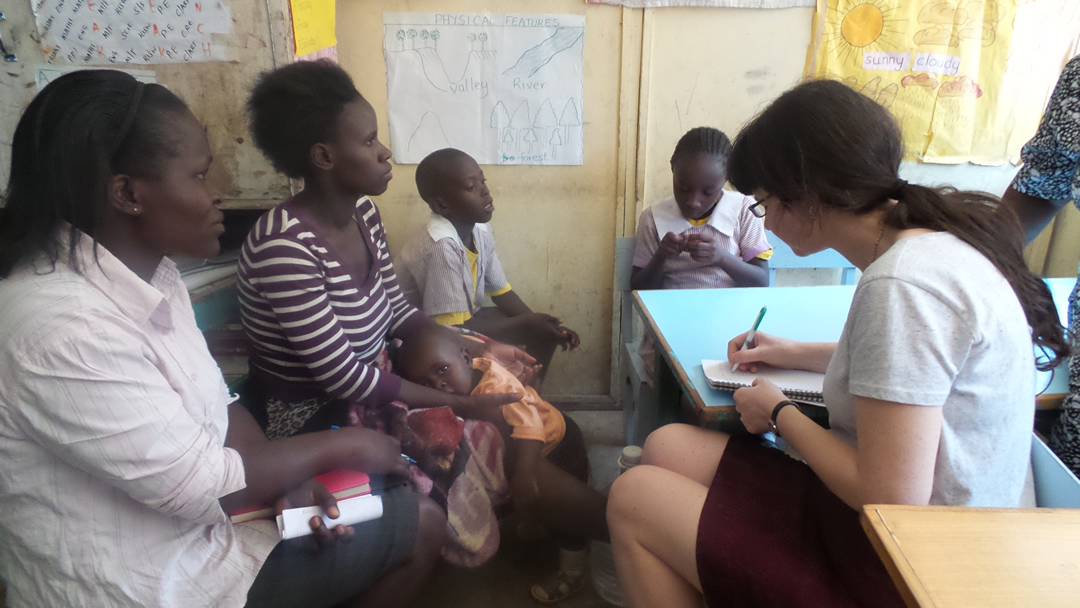 Deaf Empowerment Kenya is one of the over 20 Service Delivery Partners selected by Plan Kenya to implement a 5-year USAID-funded program called Nilinde. In partnership with Child line Kenya, AMURT, and Mothers-to-Mothers International. Nilinde works through volunteers to reach over 50,000 families in Nairobi, Kilifi, Mombasa, Taita Taveta, Kwale, and Lamu counties.
The Nilinde Project uses a family-centered approach that empowers parents and guardians with knowledge, and skills to engage in economic strengthening activities, and make investments that will improve the health, protection, and well-being of all children in the household, as a participant, DEK will work with 14 Community Health Volunteers to care for 1,350 OVC in year 1, 1440 in year 2 and 1,500 in year 3. The project shall be implemented in Kariobangi North and South. The project will work with households to build their assets, and to link them to services that will help the family to become increasingly self-reliant.
DEK proposes to achieve and contribute to Nilinde objectives by: improving access to education, health and psychosocial support to OVC, particularly those living with disability; linking OVC to age appropriate services through their Community Health Volunteers, county health networks and social safety nets; and supporting household economic strengthening (HES) for caregivers with children with disabilities through Village Savings and Loan Associations (VSLAs). DEK will leverage and build upon its past and ongoing HIV prevention, treatment and care programs to target both young and older adolescents – particularly adolescents living with disabilities and their caregivers living with HIV&AIDS – within the project catchment areas, mapped through HIV Testing and Counselling and the local health facilities. 
These efforts will support Nilinde's strategy of:
Increasing access to age appropriate health and social services for OVC and their families;
Strengthening the capacity of households and communities to protect and care for OVC;
Increasing access to social welfare and protection systems and quality services for target OVC and their households.
As a Service Delivery Partner (SDP), DEK will contribute specifically to the following program output(s):
Output 1: Increased access to health and social services for OVC and their families;
Output 2: Capacity of households and community strengthened to protect and care for OVC.
In addition, DEK will work with consortium partners under Nilinde, in the utilization of data for targeted advocacy in linking OVC and their households to social welfare programs. DEK will also participate in a range of capacity assessments and capacity building initiatives.  These efforts will contribute to the following project output:
Output 3: Strengthened child welfare and protection systems at the national level, and improved structures and services for effective responses in targeted counties and sub-counties.
In addition and as a SDP supporting Nilinde's efforts in the designated geographical area(s), DEK will be expected to:
Participate in Nilinde-led capacity building activities to ensure that the highest standard of service delivery and compliance with donor and Plan Kenya requirements are met;
Ensure delivery of quality services: working closely with the consortium technical leads to confirm the curricula, guidelines and standards to follow in the planning and implementation of the activities.
Strengthen the capacity of CHVs (and other service providers) (e.g. capacity building, supportive supervision and mentorship) to deliver quality services in alignment with Nilinde standards.
Collect and report all required data in accordance with the M&E Standards.
Support meaningful engagement with local authorities – particularly at the sub-county level to ensure buy-in of Nilinde activities and integration and alignment into the sub-county work plans.  This includes careful adherence to the agreed modes of engagement with the Department of Children services, supporting their leadership, active engagement, consultation, and/or keeping them informed of key developments on the project.
Expected Outcomes
The execution of this scope of work contributes to the targets provided. The table below indicates the key indicators set out in the M&E plan, with the respective targets for DEK, which are subject to change from time to time.
Key Indicators: Nilinde M&E Plan
Number of active beneficiaries served by PEPFAR OVC programs for children and families affected by HIV/AIDS
Percent of (OVC) children whose primary caregiver knows the child's HIV status
Number of youth who received youth friendly services through USG supported programs
Number of active beneficiaries receiving support from PEPFAR OVC programs to access HIV services
Percent of children under 5 who have a birth certificate
Number of target institutions that have improved capacity as a result of USG assistance
Number of service providers trained in referring OVC to necessary services
Number of OVCs accessing essential services
Percent of OVC households able to access money to pay for unexpected household expenses
Proportion of OVC caregivers involved in saving & loans groups
Percent of children <5 years of age who recently engaged in stimulating activities with any household member over 15 years of age
Number of households who have been trained in parenting and caregiving skills
Percent of youth who demonstrate critical life skills following a USG supported training
Number of eligible households taking care of OVC linked to safety net programs
Availability of a strong management information system for OVC
Use of information to inform program planning
Donec volutpat nibh sit amet libero ornare non laoreet arcu luctus. Donec id arcu quis mauris euismod placerat sit amet ut metus. Sed imperdiet fringilla sem eget euismod. Pellentesque habitant morbi tristique senectus et netus et malesuada fames ac turpis egestas. Pellentesque adipiscing, neque ut pulvinar tincidunt, est sem euismod odio, eu ullamcorper turpis nisl sit amet velit. Nullam vitae nibh odio, non scelerisque nibh. Vestibulum ut est augue, in varius purus.